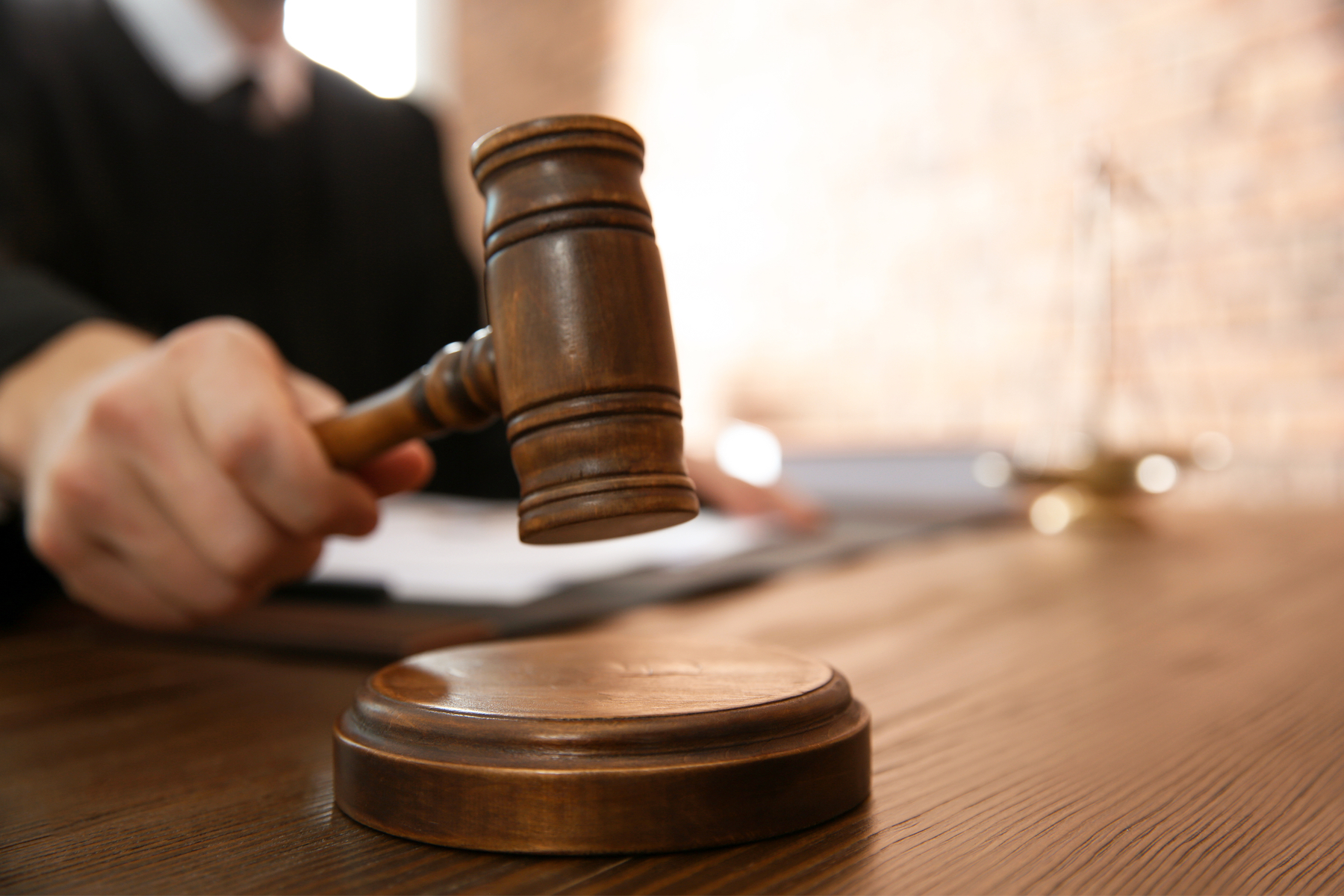 Ontario Court: Iran Committed an Act of Intentional Terrorism in the Regime's Shootdown of PS752
The Canadian Coalition Against Terror (C-CAT) applauded the May 20, 2021 decision by the Ontario courts, which found that Iran's shootdown of PS752 was intentional and an act of terrorism.

The court found Iran culpable for the shootdown under the Justice for Victims of Terrorism Act (JVTA).

The JVTA was authored by C-CAT which led the 8-year campaign for its passage. Under the JVTA, terror victims can sue state and non-state sponsors of terrorism, in Canadian courts. Iran and Syria are currently designated as State Supporters of Terrorism under the JVTA.

Danny Eisen and Maureen Basnicki (C-CAT Cofounders):
"We created the JVTA for precisely this purpose – to enable victims to hold terror sponsors like Iran accountable for their terrorist actions. We are pleased that the legislation has once again achieved its objectives. The shootdown of PS752 is only the latest terror atrocity committed by this regime against Canadians over the last 40 years. The court's decision is an important step in holding this regime accountable for the deaths of those who perished on 752."

Shahin Mogadam PS752 family member:
In a press conference today, Mark Arnold, council for the plaintiffs said that one of his clients, Shahin Mogadam, told him that after this judgement "for the first time he was able to have a good nights sleep since this tragedy.

CONTENTS:
More on the Court's Decision Under the JVTA

Additional Sources Speak to Iran's Intentional Targeting of PS752

Press Coverage
More on the Court's Decision Under the JVTA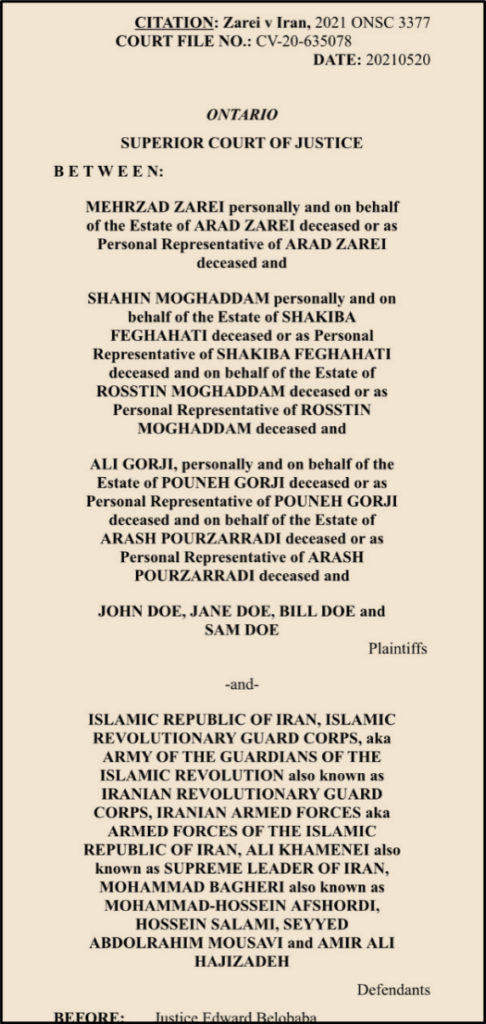 Justice Edward P. Belobaba – Conclusion, excerpts:
"The missile attacks on 752 were intentional" and an "act of terrorism"
[52] I find on a balance of probabilities that the missile attacks on Flight 752 were intentional and directly caused the deaths of all onboard. I further find on a balance of probabilities that, at the time in question, there was no armed conflict in the region.
[53] The plaintiffs have established that the shooting down of Flight 752 by the defendants was an act of terrorism and constitutes "terrorist activity" under the SIA, the JVTA and the provisions of the Criminal Code, as discussed above.
[54] The plaintiffs are entitled to default judgment on liability.
As explained in The National Post:
"Belobaba cited in part a report by Ralph Goodale, appointed by Ottawa to investigate the incident, and another by a UN human rights council investigator that questioned Iran's claim the shoot-down happened by human error. He also quoted submissions provided by two experts retained by the plaintiffs — Alireza Nader of the Washington, D.C.-based Foundation for the Defense of Democracies and Bahman Jeldi of the Canadian Society for Persian Studies — who concluded that the missile strike must have been intentional.

"A jury will now decide how much Iran should pay the victims. 'We will seize and sell any Iranian assets worldwide that we can get our hands on,' their lawyer said".
Additional Sources Speak to Iran's Intentional Targeting of PS752
Justice Belobaba
"Dr. Jeldi, an Iranian analyst with the Canadian Society for Persian Studies, "the IRGC knew Flight PS 752 was a civilian airplane and purposefully shot it down with the intent to destroy it." Dr. Jeldi explains:
Considering the TOR-M1 advanced military capabilities, two radars and control system, pre-approved flight plans and control of the airspace resting with the IRGC, and the firing of not one, but two missiles, it is not possible for two missiles to be fired by mistake as IRGC claims. There are multiple redundant systems and procedures to prevent accidental shooting of civilian aircraft. Also, the IRCG did not target the other aircraft in flight at the same time. The military in Iran controlled the airspace and aircraft within that space and knew that Ukraine International Airways PS 752 was a civil aircraft and was not hostile.
In my opinion, based upon the research I have conducted, the documents reviewed and listed and my experience, the Islamic Republic of Iran, IGRC and other parties listed as defendants in this claim planned and deliberately committed the intentional act of shooting down Ukrainian International Airlines PS 752 on January 8, 2020." (as quoted in Justice Belobaba's decision, Zarei v Iran, 2021 ONSC 3377)
Alireza Nader, Senior Fellow at the Foundation for the Defense of Democracies (FDD)
"It is my opinion that the IRGC's shoot down of PS752 was intentional. It is highly unlikely that the IRGC operators mistook PS752 for a U.S. missile as the Iranian government claims. It is highly unlikely that a technical "misalignment" or "human error" caused the IRGC operators to shoot down PS752. The firing of not one but two surface-to-air missiles at PS752 also reinforces the intentional nature of the IRGC's actions." (as quoted in Justice Belobaba's decision, Zarei v Iran, 2021 ONSC 3377)
Ralph Goodale, Special Advisor to Canadian Prime Minister
"The Goodale Report rejects Iran's claims of human and technical error and concludes that the Iranian claims are unsubstantiated. Those claims allege that the missile defense battery made a 107-degree directional error, that IRGC personnel lost all contact with the command center for several crucial seconds and the operators, "mistook a [130-foot] long commercial passenger jet taking off and ascending from east to west for some sort of threatening aircraft or missile coming in from west to east." (as quoted in Justice Belobaba's decision, Zarei v Iran, 2021 ONSC 3377)
The UN Special Rapporteur and Canadian Foreign Minister Francois-Philippe Champagne
Champagne stated he does not believe Iran's destruction of PS52 can be blamed on human error and with UN special rapporteur Agnès Callamard who concluded that "inconsistencies in Iran's official explanation and the reckless nature of the mistakes have led many, including myself, to question whether the downing of Flight PS752 was intentional".
Iran's Foreign Minister: Intentionality in the downing of 752 "not at all unlikely"
In a widely reported audio recording attributed to Iran's Foreign Minister Mohammad Zarif, Zarif stated that a "deliberate attack" by "infiltrators" was "not at all unlikely".
Oleksiy Danilov, Ukraine's Secretary of the National Defence and Security
Danilov also concluded that "Iran's refusal to allow international investigators unfettered access to the evidence has convinced him that Iran shot the plane down on purpose". As reported recently in the Globe and Mail: "Ukraine now says it believes Iran intentionally shot down Flight 752".
Iran's lead investigator: Iran's use of commercial air traffic part of a "Human Shield" strategy
In July 2020, Canadian press reported a recording from Iran's then-lead investigator, Hassan Rezaeifer who stated that Iran's attempt to conceal its ballistic missile strikes against U.S. military forces in Iraq factored into the decision to keep the airspace over Tehran open. Rezaeifer also said that Gen. Amir-Ali Hajizadeh, commander of the IRGC aerospace forces, had orders to fire missiles for "national security considerations." This admission, that Tehran was using commercial air traffic out of Tehran's airport as a form of Human Shields, further strengthens similar allegations reported months earlier in a New York Times exposé.
IN THE PRESS